If you are looking for a 1 KG Chicken Rate Today in Lahore, then you came to the right webpage. Here we will share the updated rates of 1 KG Chicken in Lahore.
1 Kg Chicken Price in Lahore Today
Here are the current prices of poultry in Lahore;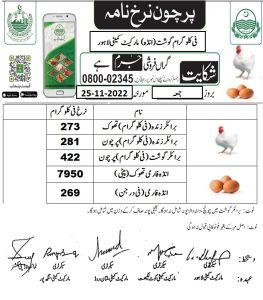 According to the above Commissioner of Lahore poultry Rate list;
The price of 1 Kg Broiler Zinda is Rs. 273.

The price of 1kg Chicken Meat in Lahore is Rs. 422.

The price of 1 Dozen eggs in Lahore is Rs. 269
Since last year, the cost of one kilogram of chicken has risen by 10%. The main reason for this price hike is the continually rising cost of poultry feed.
The government, however, has plans to regulate the cost of food commodities like chicken. They've already put a stop to sending chicken overseas and are working to increase production at home.
They are also subsidising farmers' purchases of chicken feed. Therefore, the 1 KG chicken rate in Pakistan is expected to remain steady in the coming months.