If you are looking for FMC products Price List in Pakistan 2023, then you came to the right website. Here we will share with you the latest updated rate list of FMC products in Pakistan.
FMC Products Rate List in Pakistan 2023
FMC Pakistan Agriculture Services Company is one of the most famous companies in the world. It ranks first among crop protection companies in Pakistan while it ranks fifth in the world. More than 100 products of this company are currently in the market which is on the hot-selling list due to their quality.
In today's post, we are going to share with you the latest prices of FMC products in Pakistan;
FMC Fertilizers Price List in Pakistan 2023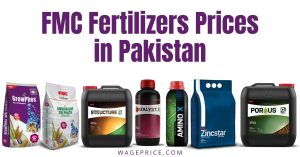 | | | |
| --- | --- | --- |
| FMC Fertilizers Products | Weight | Price |
| Growphos | 25 KG | Rs. 8000 |
| Ammonium Sulphate | 50 KG | Rs. 3190 |
| Amino-X | 400 ML | Rs. 975 |
| Porous 0-0-3.5+10% | 4 Litre | Rs. 2850 |
| Katalyst | 1 Litre | Rs. 1375 |
| Structure,6-23-1 | 5 Litre | Rs. 3275 |
| Zincstar 33G | 3 KG | Rs. 1850 |
| Zincstar 27G | 3 KG | Rs. 1795 |
FMC Insecticides Price List in Pakistan 2023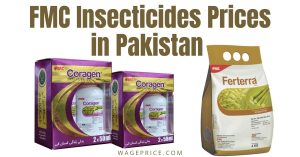 | | | |
| --- | --- | --- |
| FMC Insecticides Products | Weight | Price |
| Coragen 20SC | 50 ML | Rs. 1100 |
| FERTERRA 0.4G | 4 KG | Rs. 1380 |
FMC Herbicides Price List in Pakistan 2023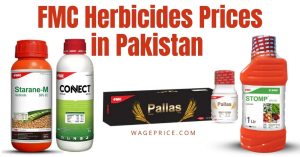 | | | |
| --- | --- | --- |
| FMC Herbicides Products | Weight | Price |
| Pallas® | 150 ML | Rs. 1795 |
| Starane-M | 375 ML | Rs. 1275 |
| CONNECT 48%SC | 1 Litre | Rs. 2700 |
| Stomp 455CS | 1 Litre | Rs. 1875 |
FMC Fungicides Price List in Pakistan 2023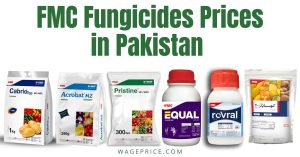 | | | |
| --- | --- | --- |
| FMC Fungicides Products | Weight | Price |
| Cabrio Top 60WDG | 1 KG | Rs. 3990 |
| Acrobat MZ 90/600 WP | 1 KG | Rs. 3990 |
| Equal™ | 150 ML | Rs. 1350 |
| Pristine | 300 GM | Rs. 2900 |
| Rovral 500SC | 200 ML | Rs. 980 |
| Kocide 3000 | 500 GM | Rs. 1550 |